Three fighters from House of Champions in Stoney Creek will make history by stepping into the Octagon on the same night.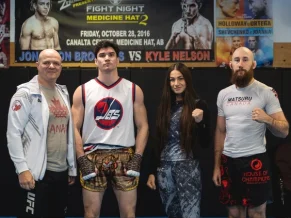 The UFC is returning to Canada for the first time since 2019 – and even though British Columbia is hosting the long-awaited event, Ontario will be in the house in a big way.
Three fighters from House of Champions in Stoney Creek – Mike (Proper) Malott, Diana (The Princess Warrior) Belbita and Kyle (The Monster) Nelson – will enter the Octagon on the same night at UFC 289 in Vancouver's Rogers Arena on June 10.
"This has never been done before by an Ontario gym, so it's a big deal – not just for House of Champions but for the fight community across the province," HOC owner and head coach Kru Alin Halmagean told the Toronto Sun recently.
He's hoping HOC's accomplishment will inspire others in Ontario – coaches and fighters – and show them anything is possible through hard work, tenacity and perseverance.
"Keep pushing, never give up – that's the spirit of martial arts," Kru Alin, 44, said.
Running three UFC fight camps simultaneously while also training other athletes for their upcoming bouts in other promotions is no easy feat for Kru Alin and his team, which includes wrestling coach Adrian Woolley.
It's a full-time job – watching tape, strategizing, nutrition, the mental and physical preparation," he explained.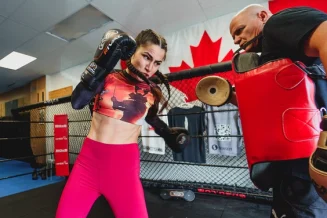 A Thai Kickboxing champ in Romania in the late 90s, Kru Alin never imagined when he immigrated to Canada in 2000 that he would become a Canadian citizen, work as the UFC's lone Canadian cutman, open his own gym and serve as president of Muay Thai Ontario, all while building a stable of decorated fighters in various combat sports and eventually cornering three of them on the same night in the world's premier mixed martial arts promotion.
And while he pours his heart and soul into every challenge, coaching is Kru Alin's true passion.
"Coaching is my life. I love it. I'll do it until I die," Kru Alin said.
But his goal is always to build champions both inside and outside of the cage, training athletes to reach their full potential while also shaping them into successful human beings.
When Malott, 31, began training at HOC as a teenager, Kru Alin quickly recognized his potential.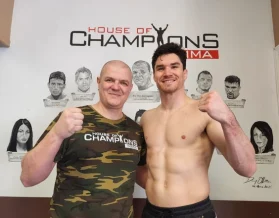 The Watertown native later moved to Sacramento, California, to train with Team Alpha Male and amassed an MMA record of 5-1-1 before stepping away from the cage in 2017 and working as a striking coach at Team Alpha Male, cornering 21 fights before deciding to fight again in late 2020.
Malott landed a UFC contract in 2021 after submitting Shimon (Assassin) Smotritsky in just 39 seconds on Dana White's Contender Series, then returned home to his roots to resume training under Kru Alin at HOC while also working with his wrestling and BJJ coaches at Niagara Top Team.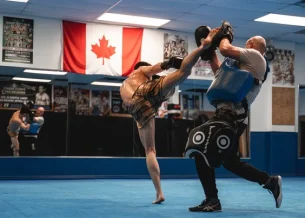 An exciting welterweight prospect and proven finisher – now 9-1-1 in MMA and 2-0 in the UFC with all of his wins coming in the first round – the methodical fighter takes on American Adam Fugitt at UFC 289.
"Having a front row seat for all of those fights while at Team Alpha Male gave him his PhD in mixed martial arts," Kru Alin said.
But it's Malott's post-fight interviews, as well as his dominant performances, that have endeared him to fight fans.
After beating Mickey Gall at UFC 273 in April 2022, Malott revealed he was donating $10,000 – half of his earnings from that fight – to help Team Alpha Male coach Joey Rodriguez 's family during his teenage daughter's cancer battle.
UFC President Dana White, boxer Jake Paul and many fans quickly donated to the cause and the GoFundMe for Angie Rodriguez has since swelled to nearly US$130,000.
After Malott's second UFC win, which landed him a $50,000 performance bonus, he pleaded for the UFC to "please come back to Canada."
The UFC announced the Vancouver show soon after.
Belbita, 26, is originally from Romania but now considers Canada "home" since moving to Stoney Creek in 2019 after Kru Alin offered her a place to live and a chance to train at the highest level.
"I am blessed to have Kru Alin in my life," Belbita said. "His constant motivation and encouragement pushed me to heights I never dreamed I would reach."
"He refuses to let me or anyone else accept anything less than what we set out to achieve, and I am grateful that he never allowed me to give up on myself," she added.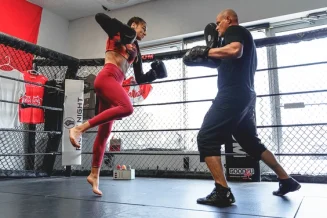 Belbita is 14-7 in MMA and 1-3 since signing with the UFC in 2019, but two of her losses were battles with Molly McCann and Gloria de Paula that saw her come up just short on the judges' scorecards.
She suffered a serious knee injury in late 2022 but fortunately did not require surgery. Now she's hungrier than ever to fight again.
"This time, for UFC 289, I am ready to take risks during the fight, I am ready to hunt the finish," Belbita said.
She is extra motivated to face fellow Brazilian strawweight Maria Oliveira knowing she will be fighting in front of friends and fans in her adopted homeland – and on the same card as her teammates.
Kru Alin also provides Nelson with a place to stay when he travels from his home in Huntsville to train at HOC three days a week.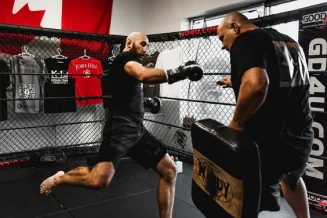 "Kru Alin has taught me a lot inside and outside of the gym," Nelson said. "Martial arts is not just about learning how to win fights but learning how to be a good person, a strong father, a leader in your community."
"What I have learned through Kru Alin and martial arts is endless," the 32-year-old added.
Nelson – now co-owner of the Muskoka Martial Arts Academy in Gravenhurst – has come a long way since signing with the UFC in 2018 and taking a fight on a few days' notice, up a weight class, against Carlos Diego Ferreira.
While he didn't get the win, Nelson had the hometown crowd on their feet at Scotiabank Arena when he landed heavy leather and solid kicks that rocked the Brazilian in the first round.
The dangerous featherweight has had numerous big moments in the Octagon – despite his UFC record of 1-4-1 (13-5-1 in MMA). He knocked out Mexican Polo Reyes on his feet in the first round in 2019 and walked away with a draw against Choi Doo-ho (The Korean Superboy) who earned performance bonuses in his previous five bouts, including a 2016 battle against Cub Swanson that was chosen as Fight of the Year and later inducted into the UFC's Hall of Fame.
Nelson said he has been working on finding the right balance between his career and family, and he believes that has improved his training and will impact his performance when he squares of with American Blake (El Animal) Bilder in Vancouver.
"Going through the whole training camp with my teammates has been awesome and getting to fight in Canada in front my family, friends and fans is also going to boost my confidence," he said. "I expect this fight to be my best fight yet."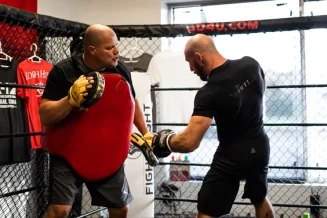 In all, there are seven Canadians on the UFC 289 card, which will see Amanda Nunes put her Bantamweight title – one of two belts she holds – on the line against Irene Aldana in the main event.
Kru Alin pointed out UFC 289 comes almost 13 years to the day after he first walked to the Octagon to corner Mississauga's Claude Patrick for his first win in the Octagon at UFC 115 in Vancouver.
And he's hoping for some "déjà vu" when HOC heads to the West Coast.
On Twitter: @sundoucette