By Laura Lennie
News Staff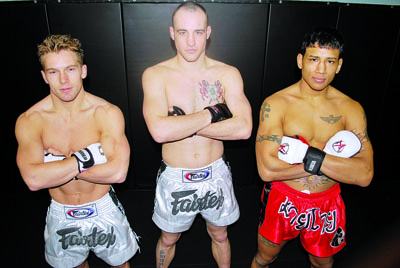 Three Iron Tiger Muay Thai mixed martial arts fighters have set their sights on total cage domination.
Stoney Creek's Josh Hill, Shane Campbell and Will Romero will represent the community on the mat at the Score Fighting Series March 16 at Hamilton Place Theatre.
"Everybody has done their homework and trained hard, so we expect to get three wins that would be the perfect scenario for us," Iron Tiger Muay Thai instructor Alin Halmagean said. "It would be a good statement for our gym and it would be great for our community to show that we have high-quality fighters, some of the top ones in the country, coming from such a small community."
Hill will battle Eric Wilson from Saskatoon, Sask. at bantamweight at the series, which features MMA fighters from North America and beyond and focuses on showcasing both established veterans and the sport's best young athletes.
"I'm really excited; I feel great. My cardio feels probably the best it's ever felt," the 25-year-old 135-pound fighter said. "He's (Wilson) 5-1 and has come off his last fight, which was his first loss. He's a scrappy guy. He can fight anywhere the fight goes, so he's definitely a tough opponent and I got to be at my best to be able to beat him."
Campbell, who's 25 and weighs in at 155 pounds, will lock horns with Lethbridge, Alta.'s Derek Boyle in lightweight action.
"I'm just happy to be fighting in Hamilton. I have a lot of people coming to watch, so I'm really excited for that," he said. "Boyle's a good, well-rounded fighter with a 7-5 record, but I don't really base going into this on him at all. I can't really control what he does, I can only focus on what I can control, my strategy."
Romero rounds out the local trio, taking on Jeff Harrison of Ottawa in featherweight.
"Josh, Shane and I are always very focused. Now that it's the new year and we've got the holidays out of the way, we're all refocused, feeling strong and ready to go," the 29-year 145-pound fighter said. "I'm feeling really confident – I think confidence comes from knowing that you're prepared – and I feel prepared. I've been training, non-stop, since January, so I'm in shape, healthy and I feel really good."
Hill, who made his MMA debut in 2009, holds a pro record of 7-0, with two wins by total knockout, one by submission and four by unanimous decision.
Since Campbell, who holds a MMA pro record of 5-1, made his MMA debut in 2008, he has simultaneously maintained his kickboxing career, where he holds an overall record of 45-10, with 11 wins by total knock out. He also is a World Muay Thai champion.
Romero also boasts an impressive record.
He made his MMA debut in 2008 and holds a pro-record of 7-3, with three wins by total knockout, two by submission and two by unanimous decision.
"I'm very proud of all of them," Halmagean said. "To see them grow and succeed in the sport, fulfills my dreams as a coach and mentor. I love what I do."
For Hill, Campbell and Romero, there's no better feeling than being on the MMA mat.
"I just love the sport," Hill said. "Whether I was competing professionally or not, I'd still train all the time. To be able to go fight and actually get paid for it is a bonus."
Campbell said training for and travelling to bout after bout doesn't leave much time for anything else, but the sacrifice is worth it.
"I love it, which is why I do it," he said.  "I'd much rather be training or fighting than doing anything else. I involve myself in this industry as much as I can. I also teach and do personal (training), I try to make that my job."
Romero said MMA is a unique sport. The challenge and physicality of it are what he enjoys most.
"There also is an honour and respect component to it – the honour and respect shared between teammates, coaches and even the opposition is just incredible," he said. "You're fighting in what society believes to be such a brutal sport, but what you'll find is that after we compete, sometimes it seems like we're best friends with our opponents because after the fight, we're out having drinks and laughing together… that is a marvel," he added. "It's a beautiful thing; it's great and that's why I love the sport, it's so pure."
The Score Fighting Series will take place March 16 at Hamilton Place Theatre. Tickets start at $30 and can be purchased at the Copps Coliseum box office or www.ticketmaster.ca.